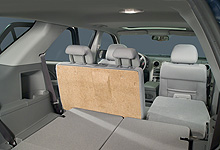 Automotive and Truck Interiors
FlexForm has enabled automotive manufacturers such as Mercedes Benz/Chrysler (DCX), Ford, GM, Honda, and Nissan to improve physical properties while reducing interior vehicle weight in several of their most popular models. FlexForm is used in door panels, door bolsters, headliners, side and back walls, seat backs, rear deck trays, pillars, center consoles, load floors, and trunk trim. Future applications under evaluation will include exterior components such as wheel well liners.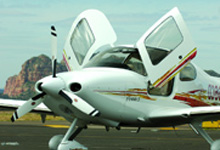 Aircraft Interiors
FlexForm FR is stirring up excitement in the commercial aircraft industry as initial testing has proved it will meet their most stringent requirements for flame, smoke, and toxicity. The strength-to-weight ratio of this product will allow for significant weight reductions having a beneficial impact on fuel efficiency. Our existing FlexForm product is already being used in non-commercial aircraft interior trim components by the world's largest manufacturer of personal aircraft.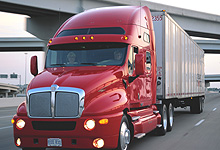 RV and Highway Trailer Sidewalls
FlexForm has patented a revolutionary material for recreational vehicle and truck trailers sidewalls. FlexForm XLP has been designed to allow manufacturing versatility in sheet sizes up to 10 feet wide and variable lengths for even the longest trailers. This new composite improves strength, durability, appearance, and does so while reducing weight. It can also be produced with a paint ready surface to meet the automotive paint specifications for Class A finishes. FlexForm XLP will become the product of choice for RV and truck trailer manufacturers.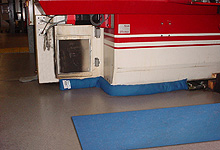 Absorbency Products
Natural fibers in the raw form are highly hydroscopic. Taking advantage of this FlexForm has teamed up with a Midwest company to incorporate natural fibers into absorbent mats used around manufacturing equipment. The saturated mats are recovered, the petrochemical based fluids extracted and sold off, and the cleaned mats put back into the system for re-use. This unique approach removes the cost for disposal and keeps hazardous wastes out of lands fills.