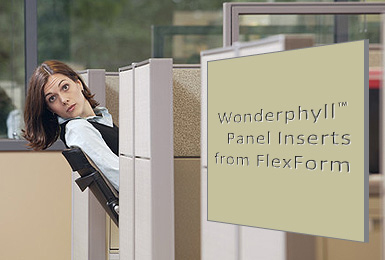 The natural fiber option
that's a perfect fit.
Today's office team member is more connected to their environment than ever before. They will appreciate it when they know their wall panel inserts are made with natural sustainable fiber. When they learn that the insert is also fire rated, they will appreciate it even more. Flexform has a Wonderphyll™ solution for your wall panel program. Our new facility has capacity to deliver millions of square feet, matched to your specifications and delivered on schedule.
Today's office furniture manufacturers know that the end customer is concerned about Greenguard, LEED and CARB. Wonderphyll contains rapidly renewable resource content as well as post-consumer recycled polymer content. Wonderphyll is sustainable and recyclable at the end of life. Help your customer add LEED points to their building by using Wonderphyll in your office systems. Wonderphyll has been tested and proven to have VOC's below Greenguard specified levels. Wonderphyll has no added formaldehyde and will comply with CARB requirements.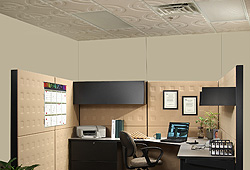 FlexForm is the simple way to add rapidly renewable, sustainable and recyclable content to your office system product offerings.

Our expanded facility can deliver millions of square feet of rolled or custom trimmed sheet for your manufacturing operation.